Increase Your Traffic, Attract Your Ideal Prospects & Win With Modern SEO.
What is Authority Content?
Stick with me and I'll reveal the system we use for ourselves and top clients at
Melbourne SEO & Video
. I want to show you how to create power and influence in your market place 99% of business owners will never know. Using a method I call "Authority Content" you too can re-position yourself to be magnetically attractive to your customers and prospects.
And 'no', this isn't about some new *tactic* – it's about fundamental principles. Principles I (and my best clients) have been following for the last 10+ years. Please note: this isn't some instant magical pill though. Yes results can begin swiftly but not without work. I figure if you're going to need to do some work – I want you working on the right things!
Introducing…. The Authority Content.
Recorded live at a one day workshop run only for my team and best clients. This is your chance to be a fly on the wall for the event many flew half way around the world, and paid big bucks, to attend. It's all part of this brand new membership site!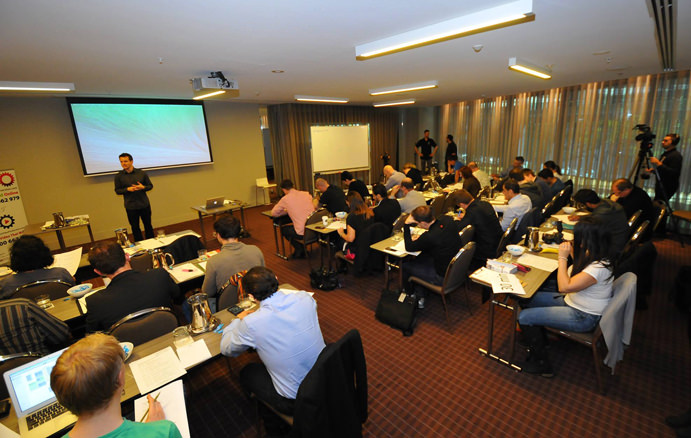 What you'll get with The Authority Content Membership:
7+ Hrs Workshop Recordings
The complete, uncut recordings are available in streaming, download & MP3 formats.
Slides, Workbook & Transcripts
Download the PDFs and you'll have the blueprint you need to follow the authority content method.
SEO Method 2 & 3 Training
These treasures are complete courses in themselves and provide the perfect grounding material.
Session #1.
Where the internet is headed and how you can stay one step ahead.
Why being #1 in your market is not only more profitable but also easier, simpler and less stressful.
What Authority Content is and how to use it to your advantage.
How to systematically use the 3 Ps framework to crush your competition.
The single best activity your can do in your business to clone yourself.
Session #2.
How to mind read your prospects to create content that compels them to buy.
The quickest, easiest and most cost effective way to generate content.
A strategic way to align yourself with the "players" in your industry and have them promote you to their best clients.
The who, what and where of running workshops that bankroll themselves and massive authority.
Session #3.
How to create information products that presell, and encourage consumption, of your products / services.
The key ingredients of a great products and my best repurposing secrets.
How to build irresistible offers that compel people to buy instantly.
The 5 step launch process that ensures you're cash-flow positive from the start.
Session #4.
How to increase your search engine traffic quick smart and reduce your budget!
The 8 step content syndication system that diversifies your traffic sources!
What most SEOs never get about online marketing and why they're missing the boat.
How to quickly spot winning content and leverage it for maximum visibility.
Our unique step-by-step process for promoting websites and building authority.
Session #5.
Discover real world case studies, giving you ideas you can swipe and deploy into your business.
What stops most people from reaching success and how you can be in the top 1%.
The 3 biggest hurdles you must overcome to maintain authority in any niche.
Just click the "
Get instant access
" button and complete the quick checkout and you'll have immediate access to the members' area.
Only: $395
+ GST where applicable
What attendees had to say…