Let Me Coach You Through The Implementation Of
Authority Content.
<center><iframe src="//fast.wistia.net/embed/iframe/eq4tcmsblu" allowtransparency="true" frameborder="0" scrolling="no" class="wistia_embed" name="wistia_embed" allowfullscreen="" mozallowfullscreen="" webkitallowfullscreen="" oallowfullscreen="" msallowfullscreen="" width="600" height="338"></iframe></center>
Ready to take the next step?
Book a consultation below and let's see if we're a good fit for each other.
<center><script src="https://to191.infusionsoft.com/app/form/iframe/fc4058de18157065c93b73b436c5c826" type="text/javascript"></script></center>
This is not an ongoing coaching program– we have a set timeframe with very clear outcomes, following tried and true systems and procedures that result in you becoming an authority in your space.
You will be required to do a lot of work– the good news is, it's work you only need to do once, which creates a lasting impact for your business and your online presence. You're building an asset here.
This program may end up paying for itself– if you keep the revenue from both the event's ticket sales and product sales, by the end of this program, you may find that you've actually made a profit. Nice.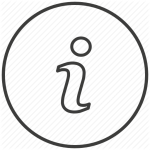 So, what is Authority Content?
If you're here, it's clear you're interested in building authority, probably because you've heard the words "Authority Content" mentioned on more than one occasion. In its simplest and purest form, Authority Content is precisely targeted marketing; consisting of a plethora of different media formats*, that – when distributed – position you as a leader in your niche. This positioning becomes the undeniable and irrevocable proof that you are the "go-to" person in your field.
When you create this type of high quality content, you'll effectively turn on a 'traffic machine', engaging both clients and prospects who are simply magnetized towards your expertise and waiting in line to do business with you.
*Formats could include videos, blog posts, slides, podcasts, articles etc.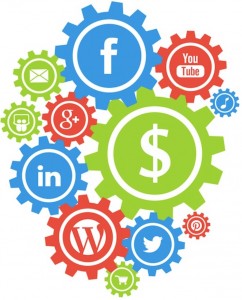 How can we create this Authority Content together?
Running a live event is at the core of this program, where you (and possibly others) host a full-day workshop about your business's products and services. All of your content will stem from this one workshop.
Before the event, we'll work together in a small mastermind group over a five-month period with fortnightly calls. From there, you will get a specific set of outcomes and action items which must be done before the next call. The purpose of this system is to ensure that things get done – keeping the momentum up and you moving forward.
We find that something magical happens when working as part of a mastermind group. Because you're checking in with other members on a regular basis, there's a synergy about everyone going through the same process and making a commitment together.
You'll be able to share your progress, your blunders and any lessons you've learned, while gaining insights and words of advice from others going through the program with you.
The positive constraint, the accountability, of the coaching will be your driving force to make it to the other side of this program.
The fact is, the Authority Content process works! It's proven. When some fail, it's often because they failed to follow through – and this coaching group has been designed to totally avert that failure – and pull you through to amazing results!
I will give you everything you need to make your event a success, and ensure you make the most out of the content you generated on the day. I'll give you exclusive access to all of the procedures, processes and systems myself and my team utilise when running events and the syndication process afterwards. I take personal pride in what we're doing here and will support you through the entire process.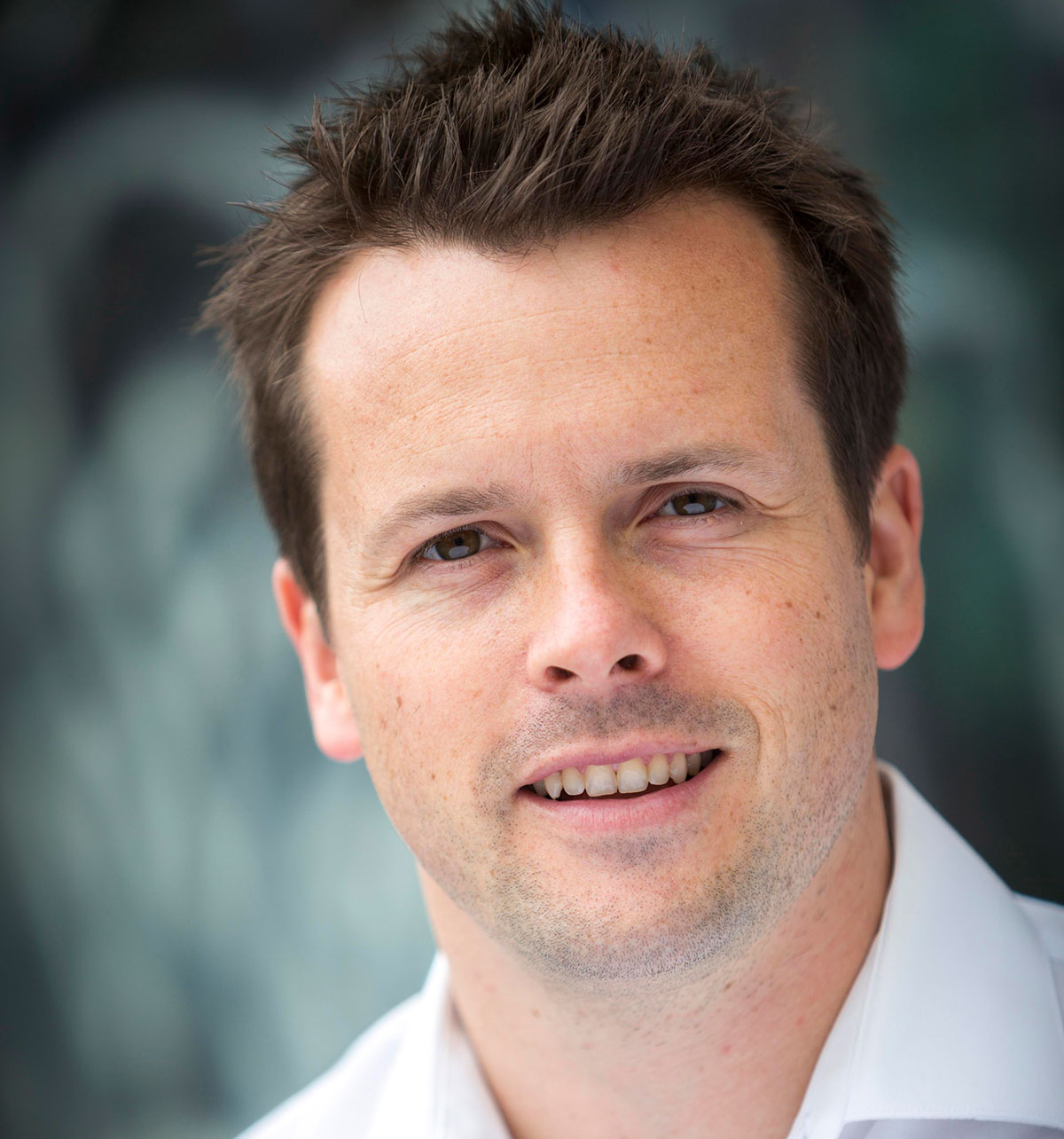 But Dave, how do I know this program will work for me?
My team and I have applied it in every business I've launched, starting 10+ years ago with the MetaStock Programming Study Guide. Regardless of the scale of business, I've had nothing but great success by applying Authority Content. We've worked with a pool manufacture, a horse supplies company, a cosmetic surgeon, a print management company and that's just to name a few.
Recently, we worked with Andrew Griffiths, Troy Dean and Pete Williams and, I hate to use the word "success" again, but no other word will suffice… They all found great success applying Authority Content (click here to view their stories).
The process itself has received so much positive feedback, I decided to turn the concept into a book. We're in the final stages now and the ghost writer suggested I finish it off with some case studies. As easy as it would be to just include Troy Dean or Andrew Griffiths for that part, someone could easily turn around to me and say, "Well they were already well known in their niche, so it's no surprise it worked."
That's one of the reasons I originally ran my first coaching group, I wanted to prove it'll work for anyone – even you! After the success of the first group, I couldn't not run it again and now I want to work with you.
The Three P's of Authority Content: Present, Product & Promote.
Present
You run a presentation. This could be a workshop, staff training or just a bunch of FAQs you answer in front of the camera.
Product
We'll then help you turn that full day's worth of content into a product that you can sell. We'll show you how to set it up online and give you everything you need to launch it successfully.
Promote
We'll then show you how to split up that content into bite sized nuggets and share it across the web.
Important Note: it's very important to me that each of the above steps can pay for itself. At each stage you'll be able to profit:
When you present, you sell tickets. When you produce your product, you'll be able to sell it. When you promote you'll be promoting back to the product and the services you have.
Course Outline – 5 Month Program With Fortnightly Calls

The Master Plan
We dive straight in. I get you making a commitment on when you're going to be running your event, what you're topic is, where it's going to be held, and who will present. We'll lay down that foundation first, then to solidify the groundwork, I'll give you log in details to a shared membership area containing all the processes and procedures you'll need to run your event.

Making It Real
We'll firm up the date for your event and a few of those final details from the previous call. I'll show you example landing pages for the event and talk about the promotion so you can get the word out. We'll explore how you can use early bird tickets to boost interest and who you should be approaching to get people to come. We'll set targets. We define all of the costs, so you've got very realistic expectations right at the outset. Remember, we try and make each process pay for itself so there is a very likely chance that you'll be able to recoup your costs and even make a profit.

Keep On Track By Having Milestones
At this point you'll probably have your landing page up. You'll be able to start promoting the event, so we'll talk about how to get the maximum number of attendees; be it through leveraging off an existing database or by finding someone you can work with. We'll also touch on aligning yourself with other speakers to do a Joint Venture and/or if need be, we can look at paid advertising.

Present The Main Event
Here, I'll give you a framework to use for creating the content. We talk about the types of additions you need to think about: workbooks, handouts, and those sorts of things. I'll share checklists such as: a pre event checklist which includes what you need to organize with the venue, line up a videographer, how to keep in contact with the attendees and what information to send them. I'll be giving you the checklist for the actual day that covers what the videographers should capture and public release forms for your attendees to sign. We'll also cover topics like getting testimonials, case studies and having your audience engaging on social media as much as possible.

The Membership Shell
We'll cover the "shell" of your product membership. We'll discuss what you need to do to get a minimum viable product. We'll discuss how to take payments and how to set pricing to make sure people buy your product. We'll discuss whether you should release it as a free product or a paid product. A lot of people actually get lured into going one way when they probably should be going the other. Having done this before, I can navigate you through so you don't make some of the basic mistakes that a lot of people make when they're starting out. We'll also talk about the pre-launch, including how to get people excited about your product. This way, the course practically sells itself when you're ready to go.

Product Preparation
Here, we'll have a look at the content itself. I'll give you video guidelines to hand to your video editor, as well as example transcripts and systems that you can pass straight to your team. I'll give you the spreadsheets we use for time coding and the process we use to chop up the videos into pieces for the syndication.

Product Launch
This is when we talk about getting your initial clients to review the product and then use that to build some buzz for some quick cash. As soon as you've created this product, we need to take it to market so you can help recoup some of the costs and really keep your momentum going. We'll take the content and use it to prime your website and social media platforms. I want to make sure you've got a good syndication platform set up and you're representing yourself as an authority in your space.

Promotion Blueprints
The whole syndication process can work without you. The first time you go through it, you're probably going to have to do a lot implementation, but the next time around, you can have your team members handle the execution.

Authority Positioning Your Website
This call is all about what it takes to position yourself as the Authority in your industry. We'll look at what content assets you've got and what you've collected from running the event. We'll use these to tweak your website to get the best conversion rate to give Google what it wants.

Getting The Most From What You Have
The final call is about further leveraging your assets to create even more marketing material and tools – from white papers to actual books. We'll also talk about how we leverage off everything else you've done and start to plan your next event.

Bonus call.
This call is a secret – released only to those who complete the program – it's a powerful strategy I have recently developed which is working like gangbusters! It's almost too good to share.
Discover Why James Tappenden Joined The Program…
<center><iframe src="//fast.wistia.net/embed/iframe/tvt4f01c31" allowtransparency="true" frameborder="0" scrolling="no" class="wistia_embed" name="wistia_embed" allowfullscreen="" mozallowfullscreen="" webkitallowfullscreen="" oallowfullscreen="" msallowfullscreen="" width="600" height="338"></iframe></center>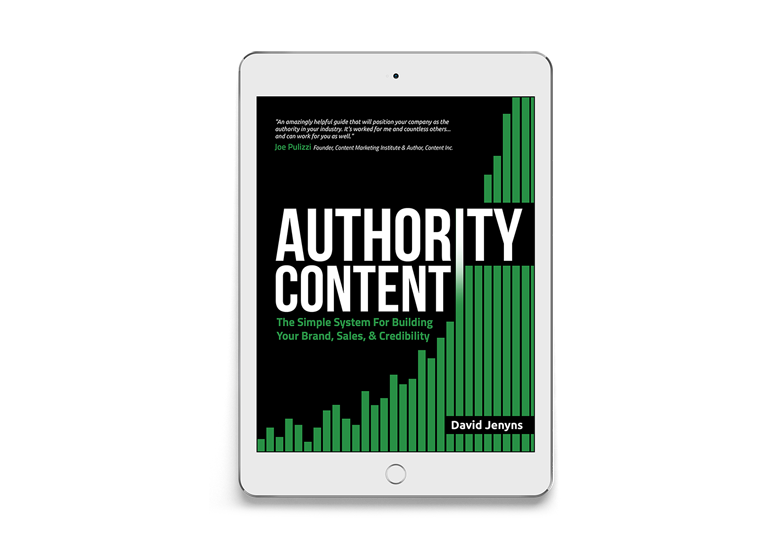 So what exactly do you get?
10 x fortnightly mastermind & training calls
10 x 15 minute one-on-one calls with Dave
Access to private membership area
Dave's systems, procedures & checklists
Authority Content 'Do It Yourself' home study course
The program investment is $1495 per month for 5 months.
So I'll leave you with this, if you're ready to work together and transform your business – and quite possibly your life – forever, fill at the top of this page and let's get started.
<center><p><script src="https://to191.infusionsoft.com/app/form/iframe/fc4058de18157065c93b73b436c5c826" type="text/javascript"></script></p></center>
Is this course open to people outside of Australia?
Yes it is, I've had experience working with clients world wide and depending on who's assigned in your group we'll find a time that works for everyone.
Am I able to get any one-on-one time with you?
For sure, each member gets regular shorter 15 minute one-on-one catch up calls with me (David Jenyns) as needed, in between the group coaching calls.
I don't like public speaking – what other options do I have?
You're not alone, we've all heard the saying "most people fear public speaking more than they fear death". As mentioned above, we can show you some strategies to get other experts to help out… that said, it's time for you to step up and become an authority. To be seen as an industry leader you need to step outside of your comfort zone.
Can I run a workshop with someone else in the mastermind group?
Yes, of course – if there are synergies between you. Heck I even presented at one of the coaching group member's events! That's not to say I promse to present at your event but if it's a good fit and it's a win-win for the both of us I'll do it. I'm committed to getting you the best result.
What if I am unable to make one of the calls?
No worries, all calls are recorded and saved within the members area – along with all of the checklists, systems and processes.
What if I have no idea what to present?
Everyone says that! That's part of the process, the fact is you're sitting on a mountain of knowledge and you might not even know it. I'll even show you how you can bring in other experts to help out.
My business is too niche-y – no one will be interested in an event my business runs.
You'd be surprised… the fact is, your clients and prospects are looking for information around your products and services everyday. They go to Google looking for answers to their questions – the Authoriy Content process is about uncovering what those questions are and then creating content to answer them.
Can my business partner or spouse go through the program with me?
Yes, I feel it's important you get the support you need to make this happen and if you've got someone who will increase your chances of success, then I'm all for it. We'll still get you to dial in together and use the same logins for the membership but they can follow along.