What is the ROI of positioning yourself as an industry authority and expert? It will take years and efforts before people can start seeing you as the expert in your field. But all that time and effort are truly worth it. Watch this video by David Jenyns as he explains this further.
Want more workshop video? For more information about Authority Content Marketing Systems, feel free to contact us.
Video Transcript: But tell me, what is the real return on investment for me being an expert in the Metastock space? It's becoming the go to guy, the person people look for when they're looking for Metastock material. It enables me, by creating that positioning, I get attention, engagement and trust. They are the three biggest hurdles you have to overcome.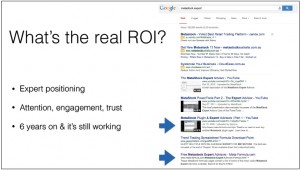 I used to say the biggest hurdle was trust, because getting attention and engagement was easy. But now attention and engagement are actually the first two hurdles you have to get over. Then you have to build trust. Once you've got that, you've put yourself in a very strong position.
But what is the return on investment by me still six years on and I'm still making sales of the Metastock Programming Study Guide? I've ceased to operate in that industry for the better part of three or four years. I haven't done anything in that space. Every month Stuart will send me a little summary of the sales and says, ok, you can invoice me this much. But I've done nothing in that space. I built up so much good will, I got so much good quality content out there, I built up this traffic machine that I'm going to show you how to do. You can't turn it off.
Again, I've done nothing in this space. You can see the keyword there 'Metastock expert.' Obviously things have changed, algorithms have updated. I used to be number one for Metastock. But you can see, even 'Metastock expert' here. There's paid search. The first two videos, that's Metastock, that's them. Then there's my video. Then I'm the second organic listing. That's a lesson in itself. Seeing how the search engine results page have changed, look where I am now, that's number two. But you can see the evolution that's happening here and I've done nothing in that space.
Being an industry expert or authority in your field can bring a lot of opportunities for you and your business. Learn how to position yourself as industry authority with the help of Authority Content.