How do you make sure that your YouTube video is well optimized? Optimizing your YouTube videos is much more than editing and sharing. Watch this video and find out more as David Jenyns discusses how to optimize your YouTube videos effectively.
Optimizing your video begins in the editing stage. You need to make sure that your final video is tailored for web use. Learn effective video marketing from Authority Content.  
Video Transcript: The workshop I ran was for Government Communications Australia. They got me to come along and talk about setting up a YouTube channel for local government. This is a snippet from that workshop. There is a lower third and then a call to action at the end. It is pretty basic work as far as the editing goes, but it is still good, relevant, useful content.
Then we take that content, we load all of it up onto YouTube and set it to 'private'. That way we don't publish it all at once. Then you just drip it out over time. You drip out maybe two or three pieces of content each week. So you've always got something new and exciting to be able to share. You can share it socially and as you publish it, that's when you post it on twitter and facebook. Everything you do, you can mesh in this social layer. If you're emailing your clients regularly as Ed talked about and said you should be doing, you can include that video. You say, oh, here is a useful piece of content that we've created.
Question: Does that take ages to upload on YouTube? One I had seemed to take two and a half to three minutes for each video that I had.
David: When we were talking about getting the inputs, a couple of sessions ago, I said, when you talk about the outputs you want your video editor to do, one of the things you should ask for is to be encoded for the web. They might have huge video sizes, but on YouTube you don't need a 2GB file. It could be that it hasn't been encoded right.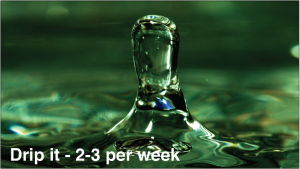 Then it's just a matter of dripping that content out. Do it two to three times a week. That is step one.
Learn how you can effectively use your YouTube videos for you marketing campaigns. Find out more marketing tips by visiting Authority Content's blog.