Social media marketing can be a very big boost to your business if implemented properly. Learn how to effectively use it. Watch David Jenyns, explains how to use social media to market your business in 2015.
Do you need help for your business' social media campaign? Visit Authority Content and give us an email, we will be happy to help you out.
Video Transcript: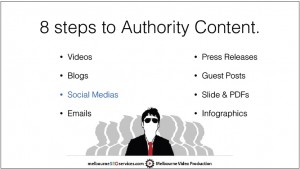 Now we start to move into the social media layer. We've done our blogs, we've got our YouTube, we've signed up to some of the reviews and directories and things.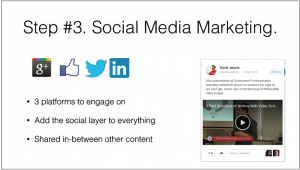 Everything that you publish, it's a good idea to share through your social media. So pick at least three platforms that you want to engage in and create a social layer to everything you do. Where is your market currently playing and think about how we can serve relevant content on that particular platform?
Even though this is relevant content, I think it is still important to intersperse your engagement on that platform with other information and bits that are really relevant and targeted to that particular platform. That book I mentioned earlier explains this in greater detail.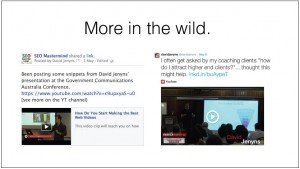 There are some examples. They are in the wild that is my Google Plus page. That is the video you saw a little bit earlier, that's on Google Plus. Obviously I also shared it on twitter. That's another video, some get shared on Mastermind. I share different videos. It's not like every video has to get shared on every single thing. You know how you go sometimes to someone's social media and it feels like they've got some program that posts exactly the same thing to facebook, to twitter, to all of the different social media? I try to mix it up. I change the wording.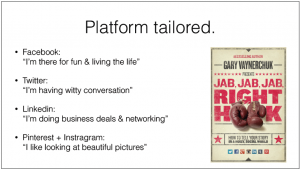 In between this distribution of content, you want to follow that Gary Vaynerchuck idea of making sure that you're creating good quality content that is tailored to the specific platform. So I might say, hey, go check out this video that I've just posted. But then if I'm on facebook as well and if you're friends on facebook, you'll see we also post photos and things like that. It doesn't quite fit into this model, but we do that so that they look natural. We're not just all about a push strategy. Really to get social media to work for you, you need to be engaging on each platform in the right way.
Social Media has become an integral part of online marketing. Learn how you can effectively use this technology to boost your business with Authority Content. Visit www.authoritycontent.com now.